Xactimate Mastery for Storm Restoration Roofing Contractors
Master Xactimate A through Z specifically for use as a Storm Restoration Contractor
Should Roofing Contractors Use Xactimate?
Master the Basics

First and foremost, quickly master the absolute basic fundamentals of using Xactimate to write professional estimates and supplements by following the simple to follow, step by step online tutorials to master "Xactimate for Dummies."

Save TIME!

Literally cut your estimating time in HALF by using our 90+ pre-written macro templates – a 1-click, bulk add feature that auto-fills your estimates based on the type of project. One click and BAM – complete estimate, done. Just edit measurements.

Handle Adjusters' Objections

Learn where to find the crucial definitions and language inside Xactware to overcome adjuster objections such as "that's already included in this line item" or "that's already included in the price per square."

Utilize the Advanced Components

Master the sketch tool for roofs, siding, and interior, learn to upload photos and Eagleviews directly INTO your estimates instead of dealing with dozens of individual attachments, build an O&P cover sheet IN your estimate, and more.
Save Money

Stop wasting money paying $25 for a technical support call every time you have a question. Have online training you can go back to over and over instead of spending time and money traveling to a 2-day training that isn't contractor specific AND forces you to rely on hurried notes when you leave, meaning you forget most of what you learned.

Contractor Specific Curriculum

Learn everything you need to know and nothing you DON'T about using Xactimate specifically as a storm restoration contractor. Every ounce of material in Xactimate Mastery is written especially for use as a contractor doing insurance work so you're not wasting any time on aspects of the software that don't pertain to you.

Personal Support

Q&A and help is at your fingertips from Alena Wilson, who created the course as 1 of only 19 certified Xactimate trainers in the nation from 2012-2014. Utilize the private, members only Facebook forum, so when you're stuck, you can quickly post a question to get help from the creator herself and/or the other members who are utilizing the training.

Get Beyond the Basics

Most contractors self-teach themselves Xactimate software and unfortunately never get much further than the basic survival skills of being able to write a simple estimate or supplement. Ensure you are utilizing the software to its fullest potential and make it work FOR you as a tool in adjuster negotiations.
Master the basics, learn to use Xactimate at an expert level, and SAVE TIME doing it!
If you're a player in the insurance restoration game, Xactimate is a necessary tool for the job. Just like your crews need ladders, you need Xactimate. Considering 98% of the insurance companies are using Xactimate, if you are not using the software to discuss scope and supplementation, it's like you're speaking a different language, creating a big hurdle for you and your profit margins. T
hat being said, MASTERING Xactimate is crucial to ensure you are not being taken advantage of by adjusters who bank on contractors' ignorance when it comes to approving or denying line items on claims.
If you're like most contractors, Xactimate is both awesome and annoying. It's awesome that you've got this big database for estimating, but it's annoying when you can't figure out some of the most basic things (like removing base service charges or matching price lists, or searching for one line item that goes by a bizarre, senseless name, making it impossible to search for and find) to the more advanced stuff (like creating sketches, importing Eagleviews, and building/using macro templates).
This is why most contractors resort to either self-teaching themselves as much as they can, meaning the average contractor doesn't get much further than learning how to write a simple estimate or supplement one line item at a time, OR you bite the bullet and buy a ticket to an Xactware training in a different state, and take 4 days off from work to travel to the location, pay for a hotel, and do a 2-day live training that isn't even specific to contractors and gives you a bunch of information you don't even need.
Worse, with live trainings you basically have to try your best to remember everything you learn, try frantically to keep up with everyone else before you move on to the next section, and then after you go home you forget 80% of what you learned and realize that the 2 days worth of chicken scratch notes you took during class make less sense than an angry woman.
…and then try to relay that fragmented information to your sales team.
Nope.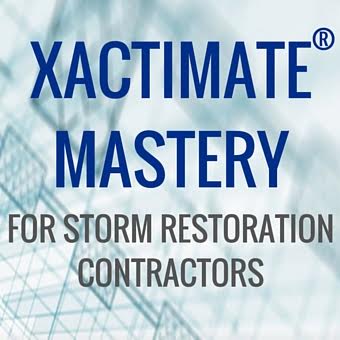 Instead, Becca Switzer with Roof Sales Mastery and Alena Wilson with VirtuTraining have partnered up to deliver you a comprehensive, step-by-step online tutorial course that not only masters the absolute basic necessities of Xactimate, but goes above and beyond to take you salty vets to the expert level with the program to gain a better edge on supplementing.
You can revert back to and reference online training for months or years, making it a valuable tool for every member of your company and eliminating the pain of having to be the one to try to teach others how to use the software.
Xactimate Mastery includes:
Mastering the software

"from zero to hero"

for

supplementing and estimating

Teaching you everything you need to know and nothing you don't specifically as a storm restoration contractor

8 Weeks of FREE live group coaching with Xactimate experts to answer questions about writing scopes
You'll learn how to build macro tempates which will cut estimating time in half - including

90+ pre-written, ready to use

macro templates for all sorts of projects

Master the sketch tool

Bonus estimating tips for commercial, interior, and mitigation

How to

import photos and Eagleviews

directly into your estimates

How to build an O&P cover sheet inside Xactimate

Where to find and use key phrases, language, and definitions to overcome adjusters' objections on specific line items

all our favorite "hacks" that make your paperwork look just like adjusters'

BONUS: your first 60 days in the program include

LIVE Xactimate Group Coaching Calls with Alena Wilson

+ her Q&A forum
5 user logins to access the course content for 1 year
You don't have to worry about self-teaching yourself through the complex and intricate software, and you don't have to rely on paying $25 per phone call to Xactware for trouble shooting (which is ends up eating up a ton of time).
Bonus, you have access to the content 24/7 for 365 days so you can go back to things over and over when necessary and not have to rely on memory or notes like you would have to in a live class.
You have access to LIVE group coaching calls for the first 60 days plus a support forum on Facebook in a private group so you have access to Alena Wilson for personal help, who created this course for contractors as 1 of just 19 certified Xactimate trainers in the country from 2012 to 2014.
If Xactimate has been somewhat of a burden or a source of frustration for you and your salespeople, if you aren't super tech or computer savvy, or if you're proficient at creating estimates but want to learn the expert techniques like macros, sketching, and other advanced supplementing tips, this program delivers.
Want to learn more about what we've put together to make learning Xactimate for yourself and your salespeople efficient, effective, and ultimately save a ton of time doing it? We'd love to fill you in.
I'd like to invite you to a free, 30-minute 1-on-1 strategy session call with me personally to talk about your business and what you'd like to achieve this year. You've got nothing to lose and literally thousands to gain. Click here to schedule a few minutes to chat (when available) / email me at becca@roofsalesmastery.com. OR, get signed up TODAY, below. 
Live Xactimate Training VS. Online XM8 Mastery Course:
What's the difference, and which is best for YOU?